A right Royal Parks run raises funds for Become!
With the trees ablaze with autumn colour, two amazing runners took on the Royal Parks Half Marathon on Sunday 8 October to fundraise for children in care and young care leavers.
Sporting their Become running vests, Laura Wyatt and Zafira Renteria were among the 17,000 runners taking part in the 13.1 mile route which passes some of London's world-famous landmarks on closed roads, and crosses four of London's eight Royal Parks – Hyde Park, The Green Park, St James's Park and Kensington Gardens.
Laura Wyatt, who is a Become trustee, felt inspired by the sight of so many people running for causes they care about:
"As you're running along, you see the backs of all the other charity runners, with all their different causes – it's really inspiring. Before the race, I couldn't get my headphones to work, and was thinking it was going to be tough without my music – but actually, I'm glad they didn't work, because there were lots of people shouting to encourage me on – it was quite emotional!"
Laura told us why she'd run for Become:
"I think every child deserves a chance of success. Children in care just don't have the same opportunities that other people have, and Become is there to redress that balance."
Zafira Renteria had travelled all the way from her home in Turin, Italy, to run the Royal Parks Half Marathon for Become. Zafira said that having lived in London, it had always been a dream of hers to run one of the big London events.
Zafira said:
"The best part for me was going through the parks, they're so beautiful. I had a tough moment when I realised that I had misread the mile markers and thought I had almost finished – in fact I was only half way through! But I kept going. I'm so happy to have run for Become, because I think the work you do is great. Young people are the future of any country."
The Become team were there to cheer the runners on and we'd like to say a huge thank you to both Laura and Zafira for taking on the Royal Parks Half and raising in excess of £1000 to support our work with children in care and young care leavers. You're amazing!
If you want to raise the total and support our runners, you can donate here.
Feeling inspired? Want to take on the Virgin Money London Marathon 2018 for children in care and young care leavers? Click here!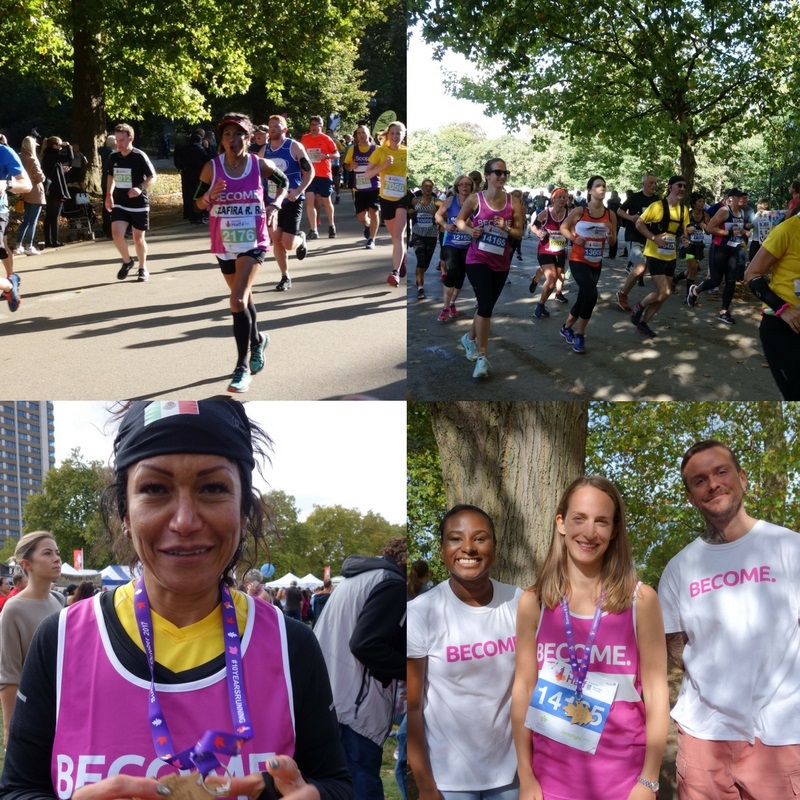 Top row L – R: Zafira Renteria and Laura Wyatt mid race
Bottom row L – R: Zafira celebrates with her medal; Become staff Leanne and Francis congratulate Laura at the finish
A right Royal Parks run raises funds for Become!
No Comments
Leave a reply