Diolch yn fawr: 'Bike Cymru' raises £48,000 for Become!
Since 2001, Gill Timmis MBE has led an ever-growing team of remarkable cyclists who undertake an annual long-distance bike ride called Biking for Children in Care. Gill has worked with children in care and care leavers for almost 30 years, including as a social worker and Children's Guardian; fellow riders are keenly aware of the challenges facing young people, with many working in social work, the law or the judiciary.
Between Thursday 15 – Monday 19 June this year, the Welsh valleys, hills and coastline saw the Biking for Children in Care peloton fly through. Over 50 cyclists rode a 200-mile route between Brecon and Tenby. The riders were again supported by a dedicated backup team driving support vehicles, providing refreshments and patching people up after (several!) falls and scrapes en route!
Become is honoured to receive the funds raised by this amazing team, a total of over £676,000 since 2001. On Friday 29 September, our Chief Executive Natasha Finlayson and Chair Hugh Thornbery joined the Biking for Children in Care AGM, where they learned that this year the riders have raised the incredible sum of £48,000 for children in care and young care leavers!
Natasha Finlayson said:
"We are so proud that Become is again the beneficiary of the extraordinary efforts of this team of inspiring people. Year after year, they get on their saddles, ride for many miles, and then work equally as hard to raise thousands of pounds so we can continue our work supporting children and young people in care. From everyone at Become, we want to say a huge thank you – or 'diolch yn fawr' in Welsh!"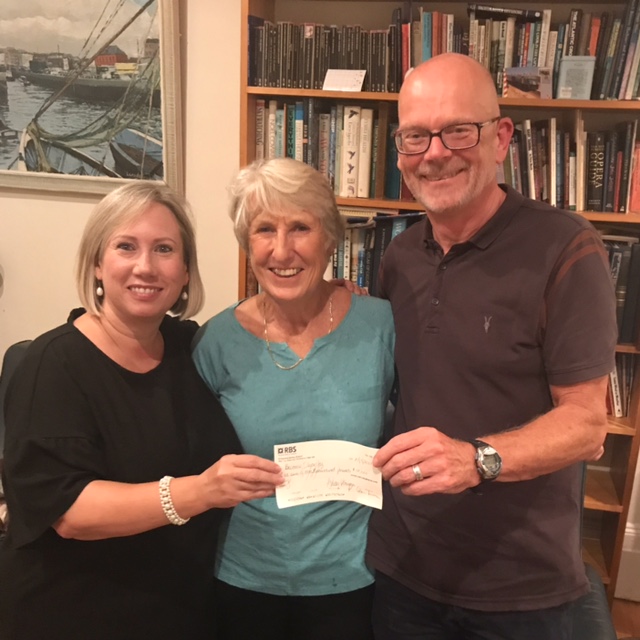 L to R: Natasha Finlayson, CEO of Become, Gill Timmis MBE, founder of Biking for Children in Care and Hugh Thornbery, Chair, Become.
Diolch yn fawr: 'Bike Cymru' raises £48,000 for Become!
No Comments
Leave a reply