Our advice and information team take calls from young people in care and care leavers on lots of different subjects. They often get asked about managing money, how the care system works and what young care leavers are entitled to. That's why we've put together these FREE factsheets, available for you to download and keep. You can also find the factsheets translated into Arabic, Kurdish, Pashto, Tigrinya Vietnamese, and Albanian (Helping you reach higher only) further down the page.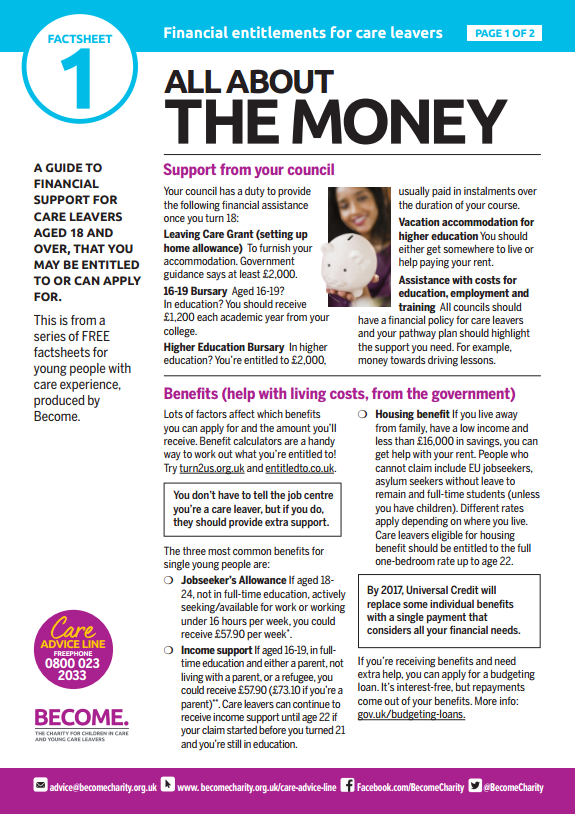 All about the money looks at financial support that's available for care leavers aged 18 or over, including funds that you're entitled to as well as sources of funding that you can apply for.
Helping you reach higher looks at what support you can access to help you succeed in higher education, including details on how to receive extra support at university – including accommodation, financial, and much more.
The name game looks at all the different people who work in children's services who you might meet if you're in care or a care leaver. It explains what different people do and how they can help you.
Pathway to success looks at pathway plans, which are really important documents setting out what you want to do, what support you need and how your council will help you get it. 

Each of the factsheets have been translated into five languages - Arabic, Kurdish, Pashto, Tigrinya, Vietnamese, and Albanian (Helping you reach higher only) - for workers and carers to use as a tool when supporting unaccompanied refugee children entering the UK.