Latest issues of Who Cares? and Who Cares? Junior published
The latest editions of Who Cares?, and Who Cares? Junior, magazine will be hitting doorsteps this weekend. The magazines, produced by Become, are the leading publications for children and young people in care across the country.
In this edition of Who Cares? young people get careers advice from top Radio X DJ Sunta Templeton. She explores the skills and commitment young people will need to get into DJ'ing on a national radio station without going to university. We also run down this winter's coolest films, meet the President of the Association of Directors of Children's Services, and our cyber security expert tells you how to avoid getting into trouble online.
In Who Cares? Junior magazine you'll meet foster brother and sister Ethan and Kira who will tell you what they think about living in a fostering household. You'll also read about famous scientists past and present, you'll see if Jaz can overcome his worry about eating fresh food, and you'll learn how you can share your hopes and dreams for 2017 with Become and your MP.
These magazines are an invaluable resource for children and young people in care providing information, fun, guidance, support, and a lot of laughs.
If you don't already subscribe, visit our website for more information on how to become a subscriber.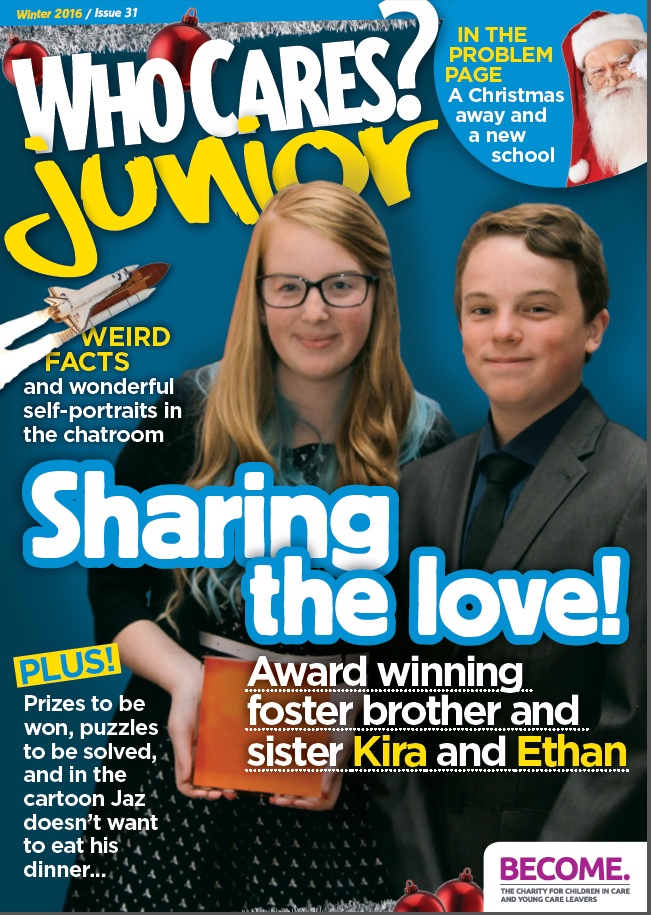 Latest issues of Who Cares? and Who Cares? Junior published
No Comments
Leave a reply