'Paws for Thought' this festive season: sales of t-shirt range to benefit Become's work
Become is delighted that one of our corporate partners, Islington-based ethical clothing label Absolutely Bear, has created two charity t-shirts in time for Christmas, sales of which will directly benefit our work. Sixty per cent of proceeds from the sale of the t-shirts will be divided between Become and the Born Free Foundation, Absolutely Bear's other charity partner.
The men's t-shirt and women's vest both present a 'Paws for Thought' message, a light-hearted way to ask people to reflect on the challenges some may face during the festive season. At Become, we know that children in care and care leavers can find Christmas particularly difficult, with so much attention focused on spending time with family.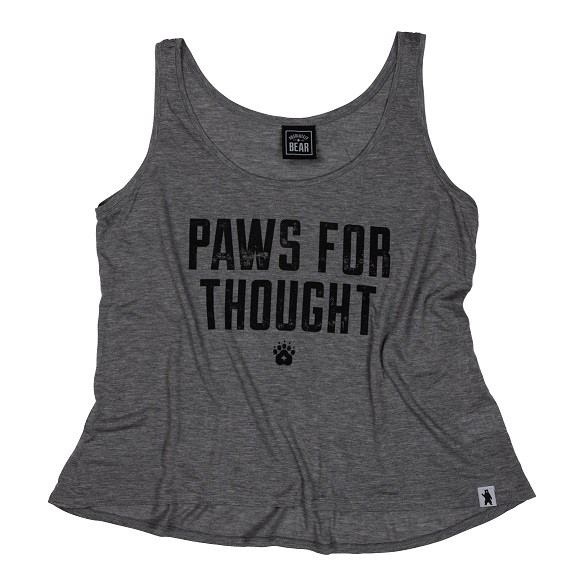 Absolutely Bear was founded on the principle that business has a responsibility to improve the lives of vulnerable people, particularly young people who haven't had the same opportunities as others their age. This ethos meant the company was a natural partner for us here at Become.
Nick Fletcher, Absolutely Bear founder, said:
"We wanted to create a t-shirt that made people stop and think, but to do it in a fun way and hopefully raise some money for an important cause. At Christmas, people often slow down and get the opportunity to 'Paws for Thought', so we thought it was a good time of year to focus people's minds on the challenges facing young people in care and care leavers and the fantastic work that Become does to help."
Natasha Finlayson, Chief Executive of Become, said:
"Our work is all about helping build young people's emotional wellbeing, resilience and aspiration – to become the person they are meant to be. Absolutely Bear shares our passion for helping young people unleash their potential and we're really excited to be benefiting from their special Christmas range."
The 'Paws for Thought' men's t-shirt and women's vest can be ordered direct from the Absolutely Bear website.
'Paws for Thought' this festive season: sales of t-shirt range to benefit Become's work
No Comments
Leave a reply